Life is better in the tropics. Surrounded by crystal clear water, nature, and most importantly, tropical fruits, it will feel like heaven on earth. Fruits such as, Pineapple, Coconut, Banana, and Mangos not only refresh your palate but leave your mouth watering as well. Here's a list of our all-time tropical fruit flavours that you need to Flave.
Starting off in the House of Fruit Blends with Tropical Paradise, this combination of sweet mango and lychee will fast forward you to the crisp and sandy beaches of Cancun. Next, catch a luscious whiff of Pineapple and Coconut with Hawaiian Breeze. We combined the juiciest Pineapples while handpicking Coconuts for a beautiful tropical flavour that will fast forward you to the Caribbean!
For a more subtle and soft tropical experience we'd recommend Soft Fuzz. Soft Fuzz is a unique blend of Peach, Pineapple and Watermelon that will satisfy your fruity palate. The special combination of pineapple and peach has a distinct taste with the watermelon to balance it all out for the perfect all day vape.
The last but not least tropical flavour in the House of Fruit Blendz collection is the one and only, Cool Tropix! This is one of VanGo's original flavours that's been perfected with a fruit blend of Pineapple, Peach and hints of Mint. The inhale is a fruity explosion with a refreshing cooling sensation on the exhale. Looking for a little more cool in your Tropics? Checkout Frozen Tropix here!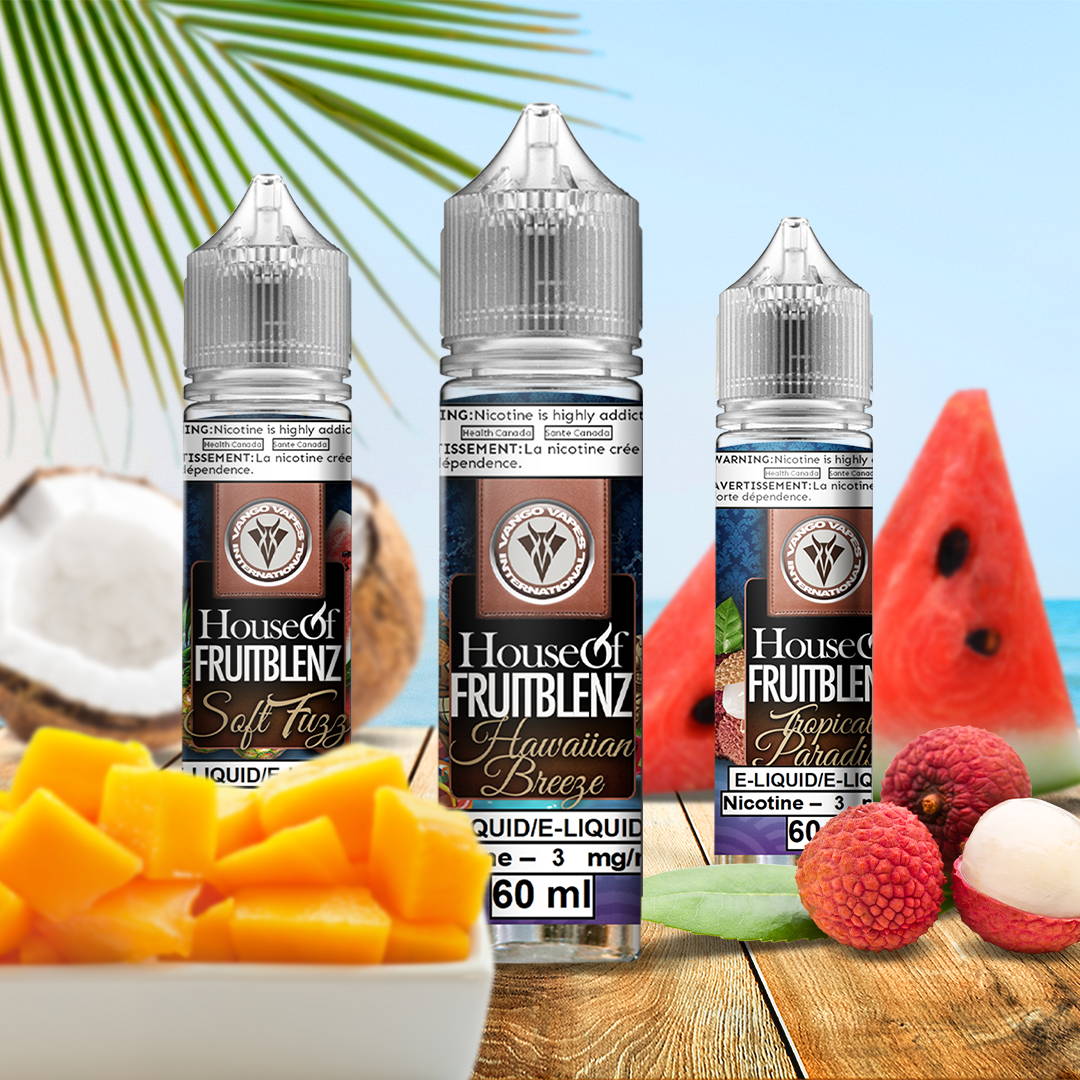 We can't talk about top 10 tropical flavours without mentioning Pincaculars. A vape-cation to the Tropics, Pineapple, Banana, coconut and a little hint of tangerine brings the beach to your vape. If you like Pina Coladas and getting caught in the rain, you'll want to get caught Flaving this quencher.
Moving into the frozen tropical flavours, Frozen Sophene is a must try! This tropical e-liquid is the perfect combination of strawberries, pineapple and a drizzle of menthol. The real secret to this flavor is the guava that adds a new dimension to this tropical e-juice. Frozen Sophene is the perfect all day vape for vapers seeking a tropical flavour or are looking to explore menthol flavors without feeling overwhelmed from the cold. Some nice classic frozen tropical flavours to try are Frozen Mango, Frozen Peach and Frozen Melons. Enjoy ripe tropical mangos, Peaches, and Melons all frozen to perfection. Each flavour offers its' own delicious profile and gives you that nice cold, smooth hit to keep you going throughout the day.
Saving the best for last, our #1 tropical flavour you NEED to try is Cactus Jango. At first, the cactus flavour in the juice may throw you off but it's our crowned jewel for a reason! Released in 2017, it came out of a challenge to stand up and be a fruit flavoured vape like no other. Containing unique fruits like Jackfruit, Lychee and Cactus with popping flavours like Strawberry and Mango, it is a full-mouthed flavour like no other. If you like your Jango a little cold, check out Jango Chill! A new twist on a classic flavour, mellowed out with a touch of coolness.
From simple tropical flavours such as, Tropical Paradise to more complex flavours like Cactus Jango, VanGo Vapes has it all! With many more tropical flavours to choose from you'll always be one Flave away from the sandy beaches of a tropical paradise. Checkout our website to start Flaving some of the best tropical flavours on the market!