Liquid Loot Rewards Program
At VanGo, we're all about making incredible e-juices and sharing our passion for flaving with the world. One of the ways we do this is by offering awesome incentives to our customers. If you sell our products, then you know we aren't shy about stocking you up on free samples and swag. And if you've shopped for our products, then hopefully you've taken advantage of our testers in store!  
Another way we spread the love is with our Liquid Loot Rewards Program. This program is available to all our online customers and is super easy to use. With Liquid Loot, you earn points on all your purchases, and you can redeem those points for discounts on future purchases. You can also earn points for taking simple actions like following VanGo Vapes on Instagram and, of course, getting free loot on your birthday!
Unlike other rewards programs, the Liquid Loot Rewards Program offers you real money back on your purchase. It works like this:  
500 Liquid Loot = $5 off
950 Liquid Loot = $10 off
2400 Liquid Loot = $25 off
4000 Liquid Loot = $50 off
A quick and easy way to earn a ton of Liquid Loot is by referring friends to the program. There's just 3 easy steps below!
---
Step 1
While on our website, click on the purple Reward Program button at the bottom left of your screen and log into your account or create an account to get started.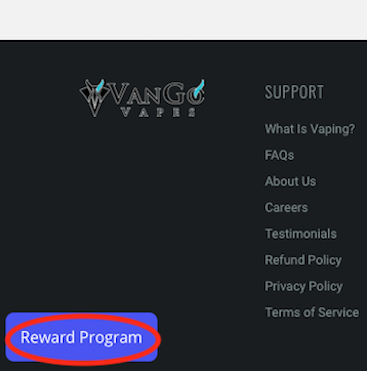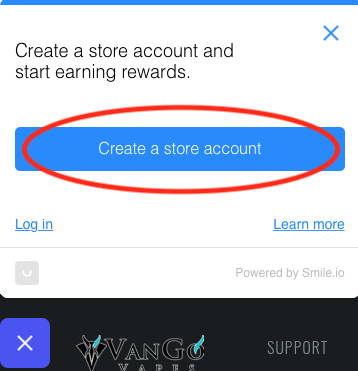 Step 2  
Once you're logged in, open the Reward Program box again, scroll down to where it says, "Share with Friends!" and copy the referral code below.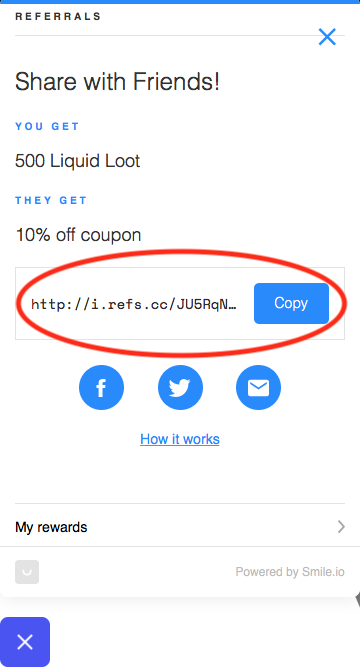 Step 3
Share that referral code and tell all your friends to join the #VanGoFam! When they use it to sign up, they will receive a coupon for 10% off. When they make a purchase, you will receive 500 Liquid Loot — that's an easy $5 off for you.
---
---